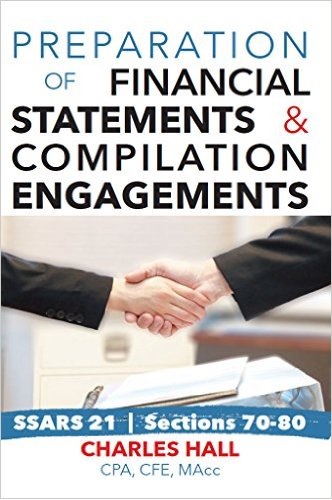 Charles Hall has written a book describing a new service called 'preparation' and the changes for compilations from SSARS 21.
If you perform a few compilation engagements a year and have not started paying attention to the complete rewrite of comp and review rules, this is the book for you. The transition date is financial statements for years ending after December 15, 2015. Essentially this applies to all your 12/31/15 comp and review work.
Preparation of Financial Statements & Compilation Engagements is available in paperback and Kindle versions. It is current #2 at Amazon in the Business&Money/Accounting/Standards category.
His writing style avoids the hypertechnical phrasing that is required for the accounting literature. Instead he has a relaxed style that is easy reading while still explaining the material well.
He posts frequent articles at his blog, CPA-Scribo. There he covers a range of accounting issues. I have mentioned his blog many times.
The book is a quick read with 84 pages in the print version plus 46 pages of exhibits and sample letters.
The book has several sample engagement letters you could use as the starting point in developing your own letters. It includes several sample compilation reports and illustrative wording for preparation engagements.
If you haven't tuned in to the major changes in SSARS 21, this book is a good tool to help you quickly get up to speed.
Since this book does not cover review engagements, it is perfect for the large number of CPAs who provide compilations only for their tax and writeup clients. The new preparation service will be especially helpful for those firms.
Full disclosure: I received a complimentary advance copy of the book for review.