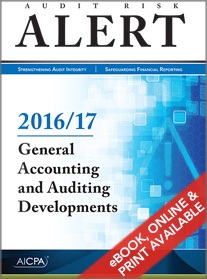 The AICPA's annual audit risk alert had been out a little while. There is a lot of good stuff covered that all auditors really ought to check out. I heartily recommend reading the annual update before you get very far into your 12/31 audits.  The document is Audit Risk Alert General Accounting and Auditing Developments—2016/17.
I will mention just a few highlights.
There is a great summary of the revenue recognition and the new lease accounting standards. If you haven't dived into those massive documents because they aren't effective for a few years and you don't think they will have a severe impact on your clients, might be worth reading the summaries just to get yourself oriented to the turmoil on the horizon.
There is also a survey of the other new ASUs out in the last year. Unless you have been paying close attention to the ASUs as they are released, you might want to check out the brief summaries in case there is something in the detail that has an impact on your audits.