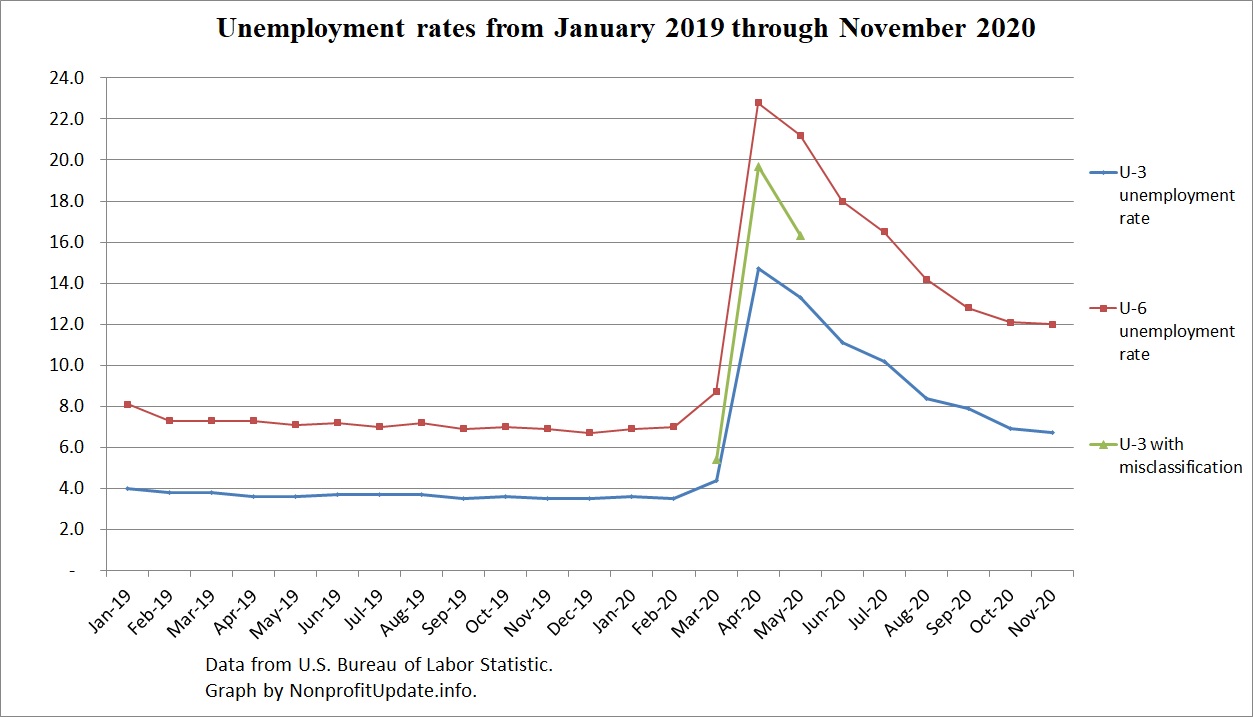 The unemployment rate dropped slightly from 6.9% in October 2020 to 6.7% in November.
That is a small change compared to the previous six months.
Check out the extreme swings in the U-3 unemployment rate:
+0.9% – March increase
+10.3% – April
-1.4% – may decline
-2.2% – June
-0.9% – July
-1.8% – August
-0.5% – September
-1.0% – October
-0.2% – November decline
That is a run-up of 11.2% in two months and 8.0% drop in seven months.
It is particularly notable that the rate of improvement slowed in September, October and November.
For the most recent month the unemployment rate barely moved downward.
Speculation in a couple of news articles indicates the rapid recovery across the economy since May has slowed in the October and November timeframe.
For a specific discussion, consider the Wall Street Journal on 12/4/20: US Added 245,000 Jobs Last Month as Hiring Slowed.
Article says the gain in jobs has been slowing over the last several months. It points out after the dramatic growth in the economy in the third quarter, the growth seems to slowed since.
Two factors are cited for the near-term prospects. First, increasing infection rates. Second, increasing restrictions on the economy imposed by many states and localities.
Graph at the top of this post provides a visual of the U-3 and U-6 unemployment rate since the start of 2019.
For a longer-term perspective, consider the unemployment rate since the middle of 2007. This perspective highlights the extremely sharp peak and sharp drop-off.