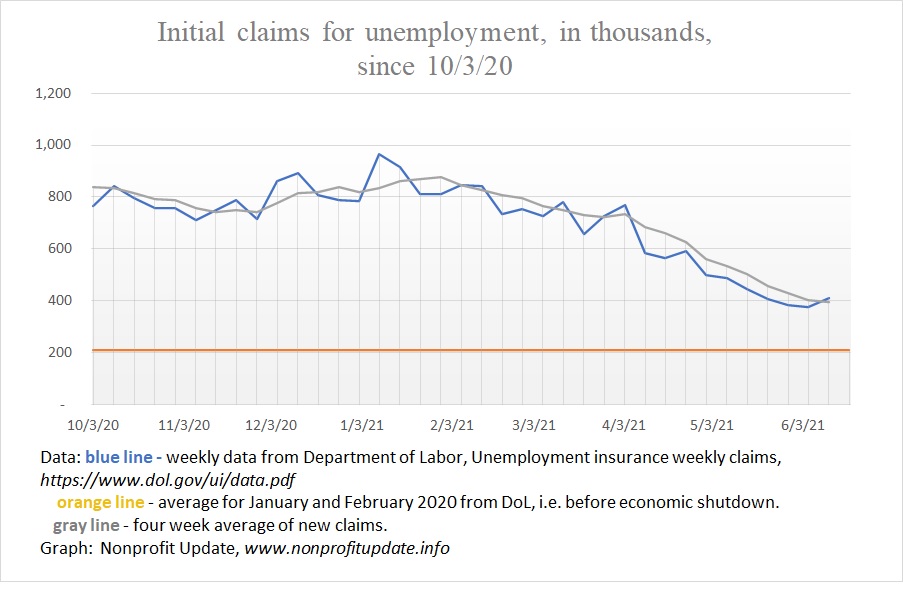 New claims for unemployment are flat compared to three weeks ago. Ongoing claims for unemployment at the state and federal level are declining, slow though the decline may be.
Number of weekly new claims for unemployment was 406,000 three weeks ago and 412,000 the most recent week. The increase in the most recent week offset the decline in the previous two weeks.
Most recent data shows ongoing claims at the state level dropped from 3,602,000 three weeks ago to 3,518,000 in the most recent week, for a net decrease of 84,000. There was an increase two weeks ago, large drop last week, and essentially no change this week.
The number of new claims is still double the average from before the pandemic.
Purpose of these posts on economic statistics is to help all of us keep current on what is going on in the overall economy.
Revised number of weekly new claims in state programs over the last four months to show the trend:
728K – 3/27/221
590K – 4/24/21
406K – 5/22/21
412K – 6/12/21
Following graphs show the devastation from the economic shutdown.
New claims
New claims for unemployment by week since the start of 2020:
…
New claims for unemployment are flat and ongoing claims are slowly decreasing as of middle of June 2021.Read More »