The number of people with continuing claims for unemployment in the regular state programs and Pandemic Emergency Unemployment compensation programs is volatile, showing large swings from week to week. However, the total does not seem to dropping very fast.
Since the week of 9/19/20, I have been pulling that data off the weekly press release from the Department of Labor. Current weekly report is: Unemployment insurance weekly claims.
The weekly data since then, excluding one week I missed, is: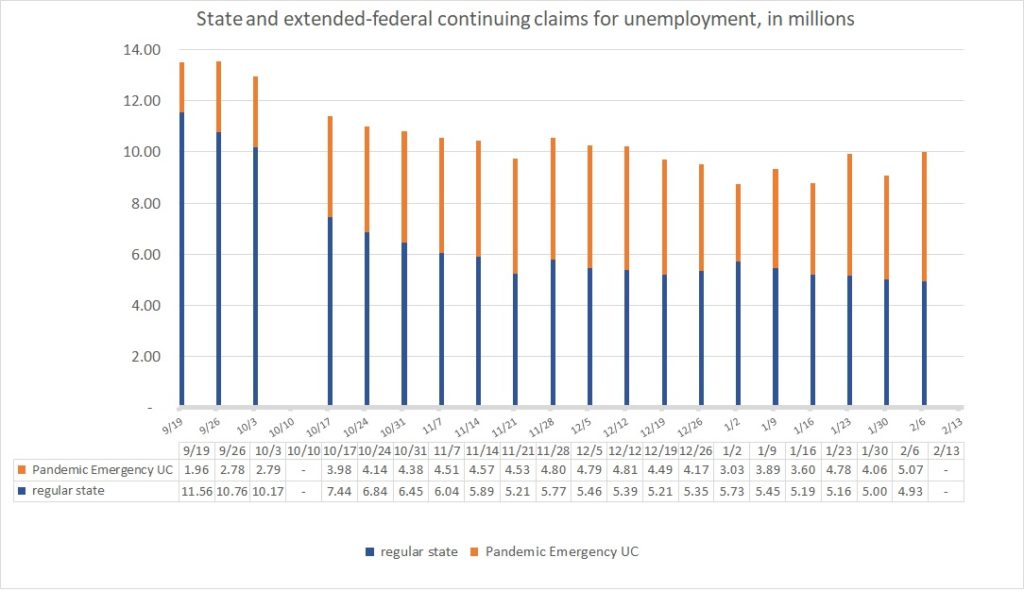 Those numbers are marked unadjusted, meaning the Department of Labor has not done their seasonal smoothing adjustments. It represents the raw number of fellow citizens drawing ongoing unemployment checks.
For context here is longer term background:
2.1M – 2/6/20 – ongoing unemployment claims in state programs, one year ago, before the pandemic kicked in
24.9M – 5/9/20 – ongoing unemployment claims for state programs, peak of pandemic
15.5M – 8/1/20 – ongoing claims for state programs, this is before state coverage would have been exhausted by anyone
9.1M – 1/30/21 – ongoing claims for state and federal programs
10.0M – 2/6/21 – ongoing claims in state and federal programs
To smooth that out, let's look at the data from every third week. I pick that increment to compressor data a little bit. Here's the number of ongoing claims for state and federal unemployment in three week increments, plus last week's data: