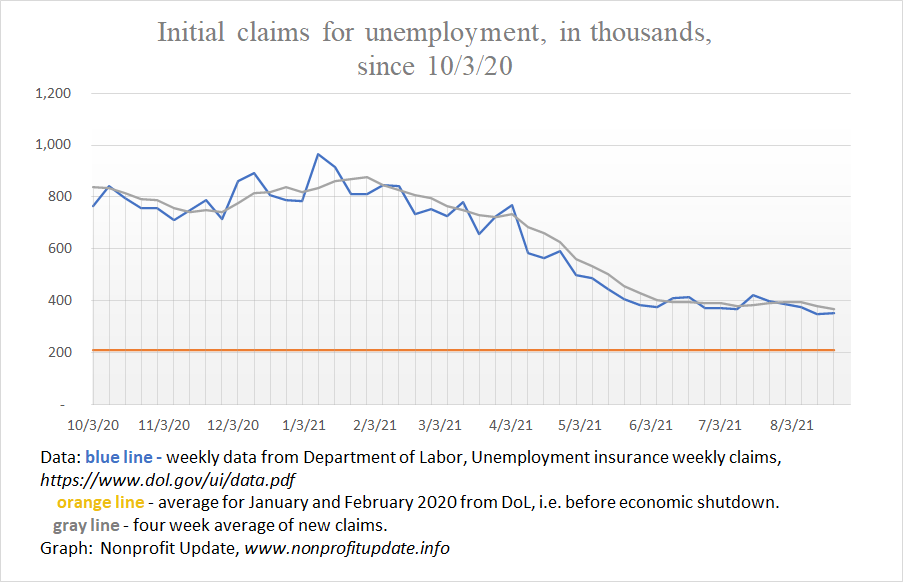 New claims for unemployment are down about 60,000 per week since my last post 10 weeks ago. For the week ending 8/21/21 new claims were 353K compared to 412K the week of 6/12/21.
The number of insured unemployed has dropped more substantially, from 3.53M the week ending 6/12/21 to 2.9M the week ending 8/14/21. That is a drop of 672K over nine weeks. For contrast the number of insured unemployed was averaging 1.7M in January and February 2020.
Those numbers reveal a slow improvement although the number of people losing their jobs each week is still running double the average in January and February 2020.
Purpose of these posts on economic statistics is to help all of us keep current on what is going on in the overall economy.
What I'm drawing from the data is the economy is improving one little bit at a time. Seems to me the recovery is slowing.
Revised number of weekly new claims in state programs over recent months shows following trend:
406K – 5/22/21
412K – 6/12/21
368K – 7/10/21
349K – 8/14/21
Following graphs show the devastation from the economic shutdown.
New claims
New claims for unemployment by week since the start of 2020:
…
Very slow but steady improvement in unemployment as of early August 2021.Read More »