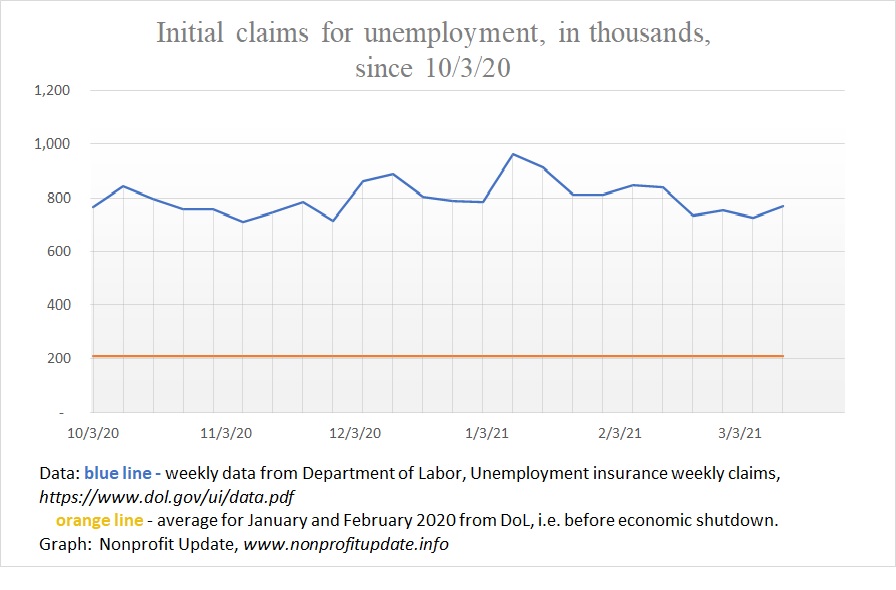 The number of new claims for unemployment for week ending 3/13/21 increased 45,000 after decling 29,000 the prior week. Those weekly changes are in the range of what has happened over the last six months. In other words, not a lot of improvement with plenty of ups and downs in the weekly new-claims tally.
Since 8/29/20, the new weekly claims ranged from a low of 711K to high of 965K. average since then is 812K. That means weekly new claims have been bad news for seven months in a row.
For context consider before the economic shutdown the new claims averaged about 220K per week, so after all these months of improvements we are still running about four times the previous norm.
Why this ongoing discussion?
If we're going to understand what is happening in the economy we need to dive deeper into the numbers. For those of us who are CPAs providing audits and reviews, it helps us to have a deeper understanding of the overall economy.
Ponder the following graphs and you can make your own assessment.
News report
…
New claims for unemployment in week ending 3/13/21 are roughly same as last several months.Read More »