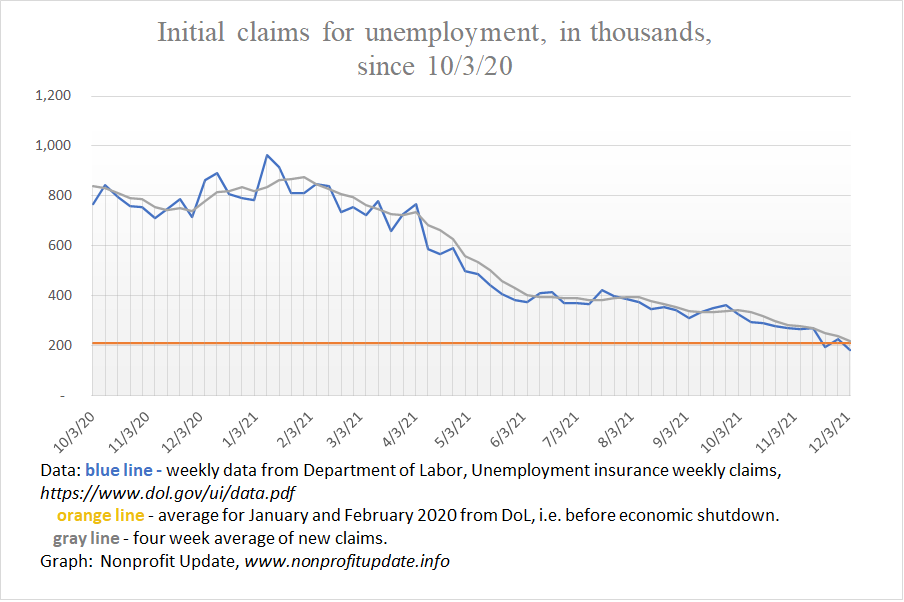 Wow. Am I confused.
The number of people filing first-time claims for unemployment is now at the level before the pandemic started.
For the week ending 12/4/21 there were 184,000 new claims. The four-week average is 219,000 which is almost a match to the average of 212,000 average in January and February 2020.
The number of people drawing unemployment insurance is 1.99 million which shows a continual decline and is approaching the 1.72 million average before the pandemic.
Yet the civilian labor force is still 2 million below the start of the pandemic and the number of people not in the labor force is 5 million higher. Everywhere you look you see help wanted signs and in my tiny corner of the world I have seen restaurants cutting back service or closing in the middle of the workday. Everywhere you look you read about a massive shortage of staff.
Part of the explanation for this confusing picture is common to read about the surprisingly low number of new claims. Speculation in several articles I read is this reflects employers being very hesitant to let go of workers if they think they will be unable to find new staff if needed in the near-term.
For example, consider this report:
…
First-time claims for unemployment now below the level when the pandemic started. Ongoing claims for unemployment continuing to decline as of the end of November 2021.Read More »